Many people love having a pool in their backyard, and maybe they've stopped to ask, "Does homeowners insurance cover pool damage?" Like many other questions about insurance policies, this one doesn't always come with a straightforward answer. Therefore, it's important to dive into the specifics of your homeowners policy and the specifics of your pool to determine what's covered and how having items like a slide or diving board impact your rates and eligibility.
Does Homeowners Insurance Cover My Pool?
Most homeowners assume that a standard homeowners policy will cover any type of pool that is in their backyard. Unfortunately, the truth is the eligibility and underwriting requirements for a swimming pool vary based on a variety of factors. Some insurance companies won't cover pools at all, while others have specific criteria you must meet before they will provide coverage.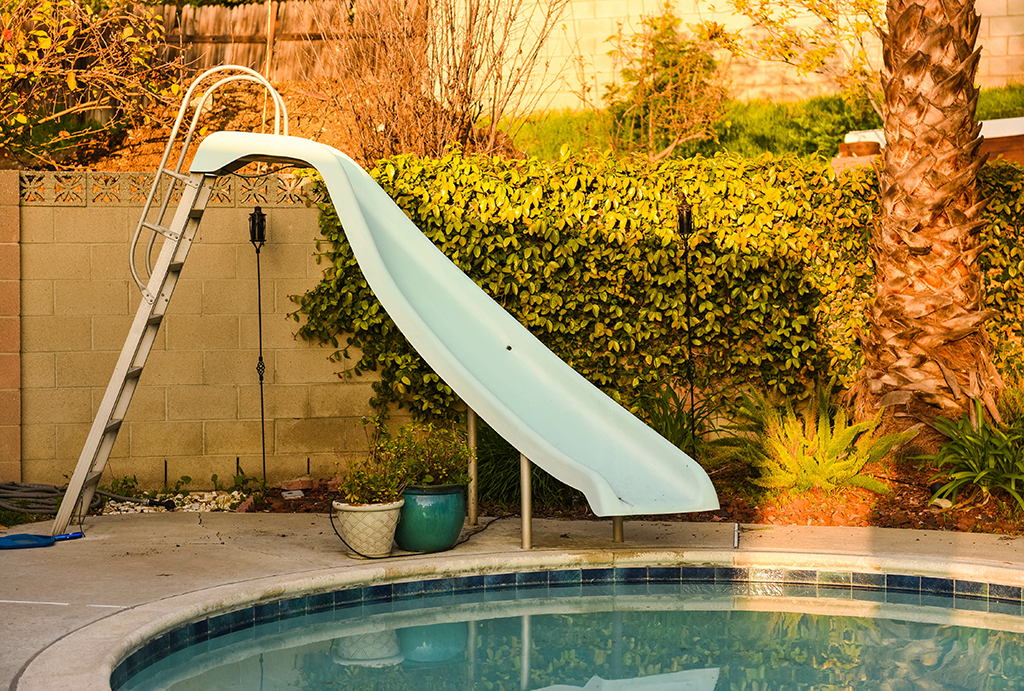 Named Peril Coverage
The simplest way to know if homeowners insurance covers pool damage or not is to read the conditions of your policy, especially in regards to the named perils covered.

In most cases, your homeowners insurance will cover:
Fire and lightning

Windstorms and hail

Snow or ice

Theft and vandalism
Unfortunately, this means that other perils, like earthquakes, flooding, or ground shifting, will not typically cover your pool. Additionally, this means that other unnamed forms of damage, such as wear and tear,  improper maintenance, or issues from not winterizing your pool are not usually covered as part of your homeowners policy.
Liability Coverage
In addition to named peril coverage, most homeowners policies include some liability coverage. This helps pay for medical expenses if someone such as a friend or family member sustains an injury while visiting your home. However, every homeowners policy has limits for liability coverage, and this doesn't always cover the potential injuries that could occur from owning a pool.
In many cases, people end up increasing their liability coverage to account for the added risk a pool poses. However, this can obviously affect your premiums and may even make it more difficult to find an insurance provider who is willing to boost the liability limits to the value you need.
If you are concerned about the liability coverage for your pool, you may want to consider adding an umbrella policy to your homeowners coverage. An umbrella policy is a specific type of liability insurance that provides coverage beyond what is specified in a person's individual homeowners policy. It also helps cover potential losses that are not usually covered in the standard homeowners policy. 
Above Ground vs In-Ground Pools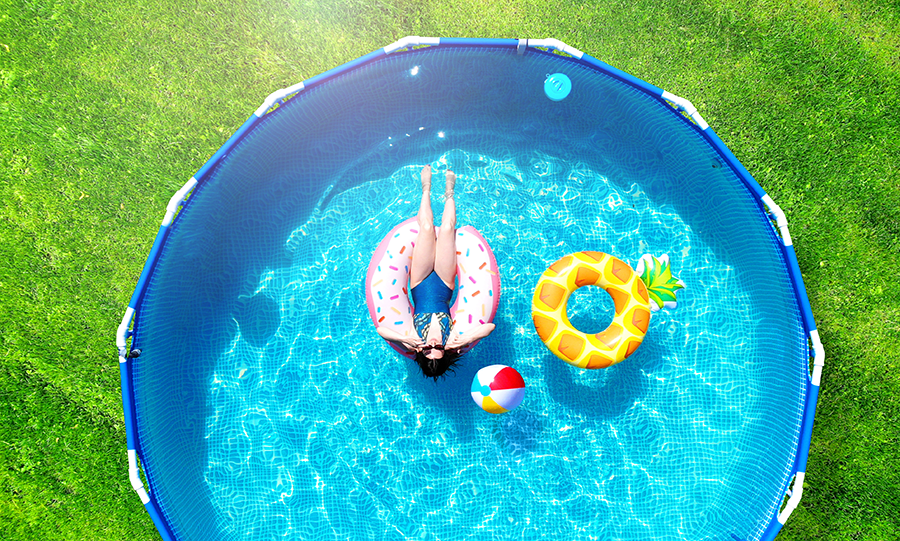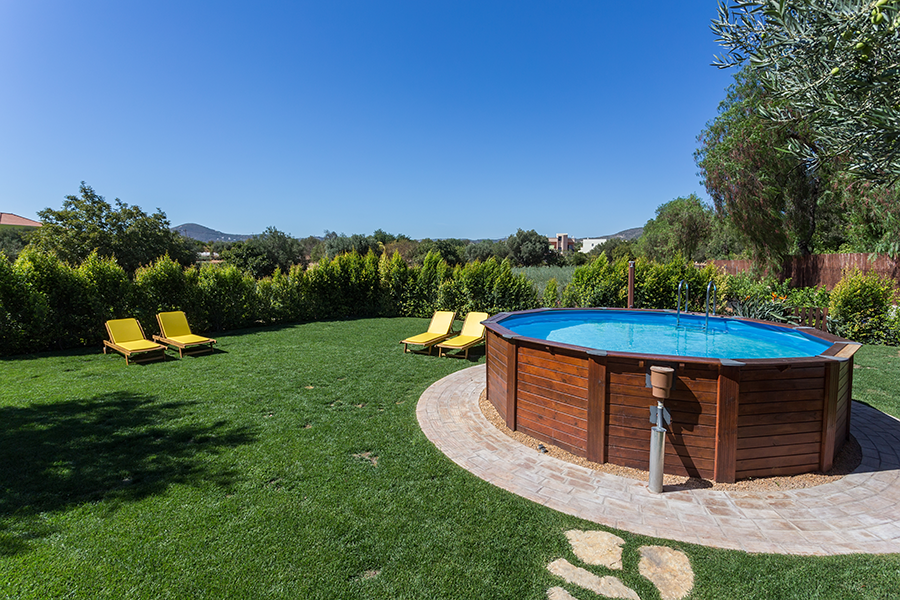 Not all pools are the same when it comes to insurance. In many cases, the type of pool you have determines how the pool is covered. Also, the type of pool you have can also significantly impact your insurance coverage and rates. 
For example, an above-ground pool that is not permanently installed in its place (meaning it isn't somehow attached to a deck or other permanent structure), typically falls under personal property for insurance purposes. So, in order for your homeowners policy to cover your above-ground pool, you will need to look at the personal property coverage limits on your policy. However, if your above-ground pool is permanently installed, then it will fall under the "other structures coverage" of your policy.
In terms of answering the question, "How much does an above-ground pool raise your insurance," the answer varies. For starters, it will depend on the value of your pool. Also, it will depend on whether the pool is considered "personal property" or "other structure." Your insurance provider can give you a run down of the limits on each category of coverage and help you decide if you need to change these amounts. Increasing any coverage limits on your policy will effectively raise your premiums.
Inversely, in-ground pools almost always fall under your main dwelling coverage. This means that the pool's value is typically factored into your estimated home value. When you receive a quote for homeowners insurance, the in-ground pool will be included under the dollar amount suggested for your dwelling.
Diving Board and Pool Slide Insurance
Diving boards and pool slides are popular items that pool owners love. Yet most people want to know: Can you get homeowners insurance with a diving board or a pool slide?
Generally speaking, these added parts of your pool are viewed as "pool accessories," and can impact whether or not an insurance provider is willing to grant you coverage. Some insurance companies flat out refuse to cover pools that have slides or diving boards attached. Other times, insurance providers will force families to sign an exclusion for injuries related to these pool accessories. 
To obtain coverage for a pool with a diving board, you will need to make sure your diving board includes a non-skid surface on the top. It must meet all manufacturer requirements for depth, upslope, and height from water. Likewise, your slide will only be covered if it is correctly installed, and the point where it enters the pool meets any safety requirements in terms of depth of pool and distance from the walls of the pool. In most cases, it is best if you pay to have these pool accessories professionally installed so that you know they meet all of the safety requirements.
However, a pool slide on California homeowners insurance adds another layer of difficulty. You may already have trouble securing homeowners insurance if you live in a fire zone, and slides both increase your fire and liability risk. However, Your Good Insurance Agency can help make sure you have the proper coverage, even if your pool has a slide or diving board.
Insuring Pools For Rental Properties
If you own rental property with a pool, this can also make insurance difficult. Whether you are a standard landlord or using the home as vacation rental property, though, you will still need to make sure your homeowners insurance properly covers the pool on the property. 
Sometimes insurance providers see pools on landlord properties as an even higher risk than normal. Therefore, you may have to shop around to obtain insurance for your rental property if it has a pool. You may also need to add security measures to your pool or property around the pool to guarantee coverage (see tips below).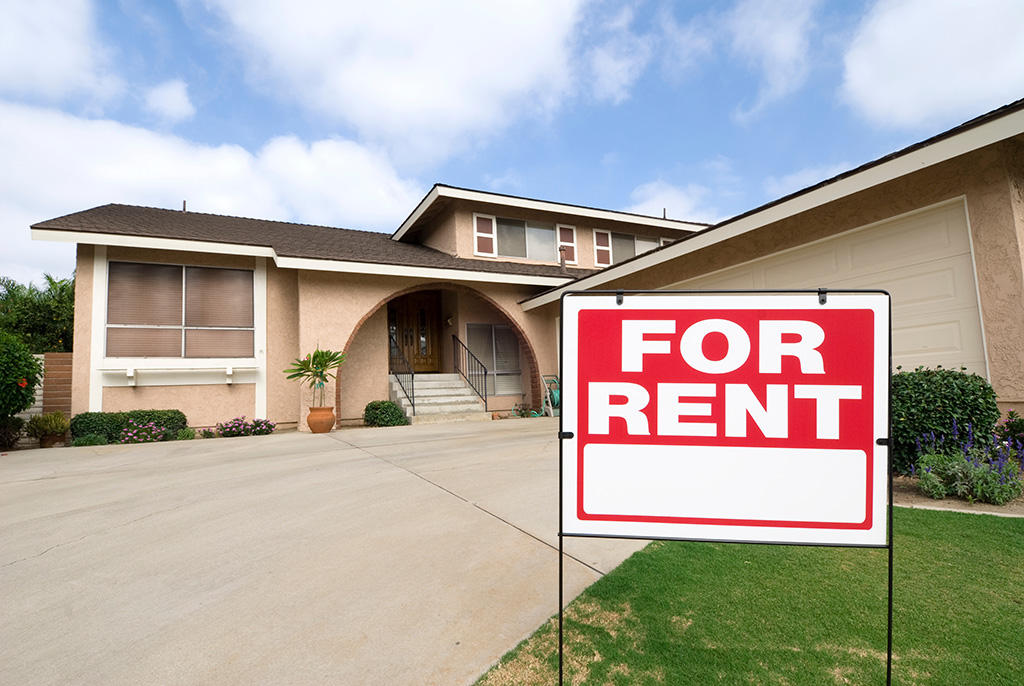 When getting coverage for your rental property, you will want to make sure you include adequate liability coverage for your property. If the renter were to get injured due to the pool, there's a chance you could be found liable. Having the adequate amount of liability coverage will protect you.
How A Pool Affects Your Homeowners Insurance
As you can imagine, pools do affect your insurance rates, regardless of the type of pool you have. So, how much does a pool increase home insurance? Well, there are various factors about pools that impact the rates and your coverage options. 
Does Having a Pool Increase Home Insurance?
In the simplest terms, yes, having a pool increases your homeowners insurance. However, there are several factors at play, and each one can impact your insurance rates in different ways.
Your pool can raise your insurance costs based on:
How much liability coverage you select

How much the pool increases your estimated dwelling replacement value

How much you increase your additional structure or personal property coverage (if pool is above-ground)

Whether or not you add a separate umbrella policy

Other determined risk factors
Therefore, if you have a pool, it's usually a good idea to obtain multiple quotes and compare each side-by-side before selecting an insurance provider.
Do Diving Boards Increase Insurance?
Diving boards are considered a pool accessory that doesn't fall under the main pool structure. They are also considered an "attractive nuisance," which makes them a higher-risk item on your property. For these reasons, homeowners insurance with diving board can be more expensive.
Just as the insurance prices for pools can vary, the exact difference in insurance premiums for a pol with a diving board depends on several factors. These include:
The type of diving board

How the board is installed

How far above your pool the diving board sits
Although it's never fun to pay more for your home insurance, it's best to disclose the presence of your diving board when you are obtaining coverage. Failure to mention it could result in a rejection of a liability claim or complete cancellation of your policy.
Does a Pool Slide Increase Insurance?
Just like a diving board, a pool slide can absolutely increase the cost of your homeowners insurance. In some cases, pool slides pose even more of a risk than diving boards. This means you will absolutely need to increase your coverage if you plan to install a pool slide or already have one installed.
Extra Considerations for Insuring Your Pool
When insuring your pool, you will want to take extra precautions to make the pool as safe as possible. These additional safety measures will cost a bit of money up front, but they will lower your pool's liability risk, which may help you obtain coverage and spend less in the long run.
Place a fence around your pool with a lockable gate.

This helps prevent small children from wandering into the pool and prevents people falling into the pool by mistake. Check with local laws and insurance requirements to determine the best height and locking requirements for your fence and gate.

 

Install pool lighting.

Installing lights in and around your pool will ensure that people don't accidentally stumble into the pool, especially when it is dark outside.

 

Keep the area around the pool free of obstacles.

This helps prevent tripping hazards, which cold result in drowning. This means that even lounge chairs should remain at least a few feet from the pool. Also, make sure that there are clear walkways around all directions of the pool.

 

Keep the pool covered when not in use.

This will reduce the risk of people falling into the pool when it isn't operational. Also, pool covers can keep debris out of the pool, which can lower the risk of damage.

 

Remove ladders when pool is not in use.

If you can raise or remove your pool ladders when the pool is not in use, you lower the risk of a child getting into the pool unsupervised. This can help keep everyone in your home and all guests safe.

 

Maintain a well-stocked first aid kit.

Having a first aid kit handy in your pool area will help you take immediate action if a pool-related injury does occur.

 

Obtain CPR training.

Providing proof of CPR training can help you keep everyone safe while swimming, which can lower the liability risk associated with your pool.
Got A Pool? Your Good Insurance Agency Can Still Get You Insured
Obtaining coverage for your home can be difficult if it includes a pool. If you have a diving board or slide on top of that, it may seem impossible to obtain the coverage you need. However, Your Good Insurance Agency can almost always get the job done. 
When it comes to homeowners insurance with a pool that has a slide or diving board, we have several options we can explore to help you obtain the best possible coverage. We can look at how liability coverage impacts your eligibility, and make adjustments based on your exact location. Even if you live in a wildfire zone, we can still make sure you have all of the coverage you need for your home, pool, and pool accessories. 
As a broker we will price this with up to 30 carriers to get you the absolute best price.
About Your Good Insurance Agency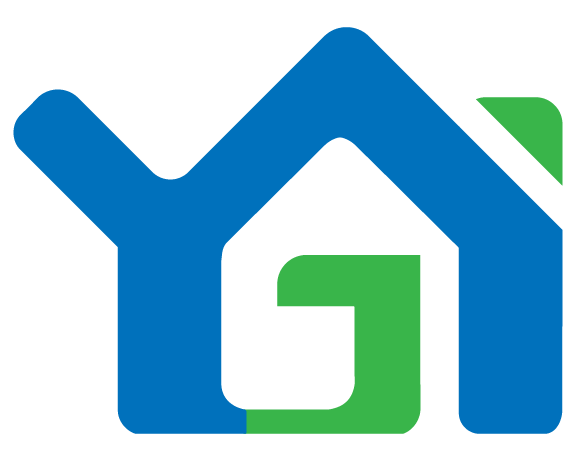 Based in San Diego, California, Your Good Insurance Agency was started in 2008 with the goal of helping people find high quality insurance at a reasonable price.
We work with over 30 carriers to help you get the best rate with good coverage options. We specializes in personal lines insurance with an emphasis on homes, dwellings (rental properties), and autos. We also help investors with property flip Insurance.
Most of our clientele resides in California however we are also licensed in Utah, Nevada, & Arizona.