Living in an area prone to wildfires can be stressful but it's no secret that areas prone to wildfires are also some of the most beautiful places to live. Many major California home insurance providers are no longer insuring homes located in wildfire-risk areas, forcing Golden State homeowners to look for alternatives to standard coverage (which we'll review in this article). Navigating homeowners insurance for homes located in wildfire risk zones can be tricky but we're here to help, read on to learn more.
What to do if home insurance won't renew due to wildfire risk?
If your home insurance company doesn't renew due to wildfire risk, you'll want to see if other carriers cover the area. The California Department of Insurance maintains a list of companies approved by them and licensed to do business in California. Contact us about the availability of coverage with another insurer. 

If an insurer is willing to take on your home and its risks, ask about rates, coverage limits, deductibles, etc., just as you would when shopping for any insurance policy. Suppose one company quotes you lower rates than another but doesn't offer enough protection or coverage limits are too low for your needs. In that case, you may have to go with another company that meets all those criteria but at higher premiums.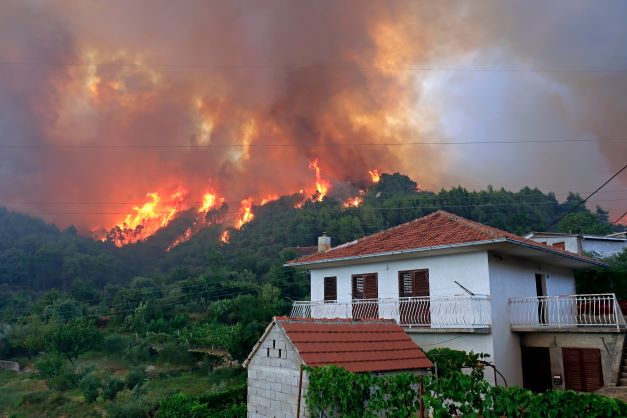 How to get homeowners insurance in a high wildfire-risk area. 
If you live in an area at risk for wildfires, it's important to work with an agent or broker specializing in high wildfire hazard properties. You can find out if your home is in a high-fire risk area by looking up your zip code on the U.S. Forest Service website. If there are any red flags on this map (for example, if wildlands surround your house), it might be worth working with an agent who specializes in these situations so they can help ensure your insurance needs are met adequately and efficiently.
There are several ways to get your home insured in a fire-prone area if standard homeowners insurance isn't an option. Working with an agency with experience with these policies is key. 
The best time to buy homeowners insurance is before the start of wildfire season when your current policy still covers you. You can compare prices with other providers.
If you live in an area that's at risk of wildfires, it's important to know that your homeowners insurance may not cover all of the damage. If you want to be sure that your home is covered in the event of a fire, talk with a broker like us about getting a risk assessment done on your property and home.
A risk assessment can help determine how much coverage you need for things like fire prevention measures (like sprinklers), smoke detectors and alarms, as well as other ways of reducing the chance that flames will reach your residence. It's important that you understand what kind of coverage is available and how much it will cost.
Which insurance companies cover homes in wildfire areas? 
Is your home in an area where wildfires are a risk? Then it's important that you understand what kind of coverage is available and how much it will cost. Here are the types of insurance companies you can secure insurance from. 
Premier carriers- Premier insurance carriers like AIG and Chubb have home insurance plans designed to handle wildfire damage, including private firefighter services. Unfortunately, this type of homeowners insurance is generally only available to homes valued at more than $1 million.


Surplus line carriers-

Surplus line carriers provide insurance for homes that typical home insurance companies refuse to insure due to the high financial risk. They can take on the risks because they are not required to follow state regulations. Surplus line carrier plans are more expensive than standard homeowners insurance policies.
California FAIR plan:

Most states provide FAIR, or Fair Access to Insurance Requirements, Plans as a last resort. The FAIR Plan covers up to approximately $1.5 million in dwelling and personal

property coverage

in California.
What does CA Fair Plan property insurance cover?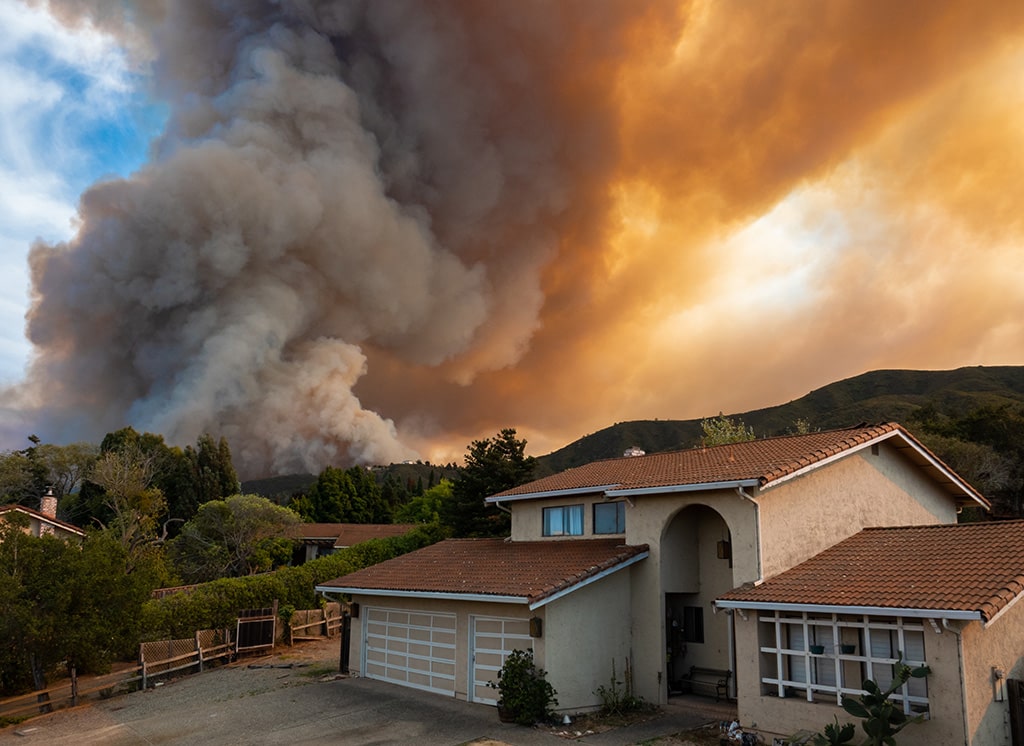 Many major California home insurance providers are no longer insuring homes located in wildfire-risk areas. Forcing Golden State homeowners to look for alternatives to standard coverage. CA FAIR Plan is one of the most common alternatives, a state-administered insurance pool that provides coverage to residents who can't find coverage on the private market.
The following are examples of what's covered by this type of property insurance:
The loss or damage to your home and its contents due to fire, lightning, smoke, and explosion.

 

The cost of repairing or rebuilding your home if it's damaged by these hazards.

 

Losses that occur when there's an earthquake (including landslides) in California as well as any other state where the carrier has permission from regulators to write Earthquake Coverage.
What isn't covered under this type of property insurance? There are some exclusions that apply only under certain circumstances:
Theft or damage due to burglary, robbery, or theft by an insured person. Damage from faulty workmanship or materials used in the construction of your home.

 

Losses resulting from earthquakes occurring outside California (unless you have purchased earthquake-specific coverage).

 

Flooding, landslides, and mudslides caused by water damage.

 
FAIR Plans don't cover other perils like water damage, theft, or vandalism. Medical payments and personal liability are generally excluded from coverage. Homeowners can supplement their coverage by purchasing a Difference in Conditions policy to ensure no gaps in protections.
What is DIC insurance?
CA FAIR Plan covers fire damage, and a DIC insurance supplements coverage for the other standard perils like water damage, theft, or vandalism.
What does a difference in conditions (DIC)policy cover? A difference in conditions policy is an insurance policy that can help provide expanded coverage for your home or business. 
DIC insurance comes into play when the broader insurance market will not offer coverage or to fill in the gaps standard coverage leaves behind. The insured buys this coverage in addition to a CA Fair Plan insurance policy. This type of coverage goes beyond the purchase of additional coverage limits since standard coverage typically excludes specific perils.
How much does home insurance cost in wildfire areas? 
Californias can pay around $1500 yearly for about $300,000 in standard homeowners coverage. For those in a wildfire risk zone, it could be significantly higher.  According to Janet Ruiz, Director of Strategic Communications at the Insurance Information Institute, inflation is causing the rise in the cost of rebuilding a home. This is primarily due to increased building costs, labor shortages, and costly wildfires.
Common Causes of Wildfires
According to the National Drought Mitigation Center and the National Oceanic and Atmospheric Administration's Drought Monitor, much of the U.S. is experiencing "severe," "extreme," and "exceptional" drought conditions, giving little hope for relief anytime soon. 
 American Property Casualty Insurance Association (APCIA) spokesperson Kare Collins stated, "Hotter and drier conditions, due to climate change and worsening drought, are resulting in fires igniting more easily and spreading more rapidly with fire seasons now considered year-round."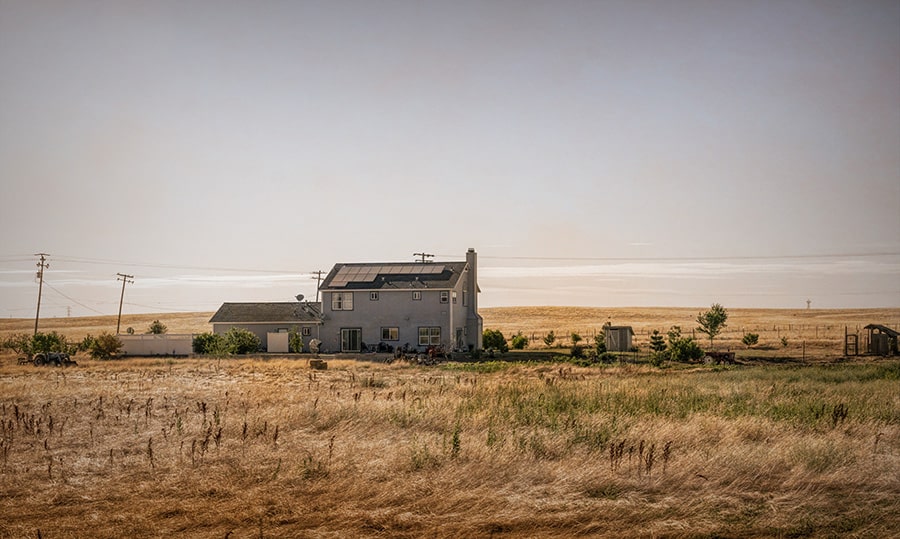 Verisk Analytics, a leading data analytics company that assesses insurance risk, found about 4.5 million homes at high or extreme wildfire risk. Wildfires destroyed 3,577 homes last year, according to the National Interagency Fire Center.
Of course, droughts and excessive heat aren't the only culprits you must be concerned with. Human activity is the primary cause of wildfires, according to information provided by the Wildland Fire Management Information and U.S. Forest Service Research Data Archives. Discarded cigarettes, unattended campfires, burning debris, malfunctioning or improperly used equipment, and arson are the catalysts for many wildfires.
Ways you can lower your wildfire risk. 
Take these steps to reduce your wildfire risk. If a wildfire does occur, it's important to know what type of coverage you have and how best to use it.
Check that all your smoke alarms are working correctly and placed on every level of the home, including garages and attics.

Keep trees and shrubs trimmed away from windows, doors, and eaves, so they don't catch fire from embers or sparks generated by nearby fires.

If possible, store flammable materials such as gas cans outside the house in an approved storage container designed for that purpose–not inside where they could catch fire if exposed directly to heat sources such as stoves or furnaces (or even just left out on hot summer days).


Be aware of the risks of doing a hardscape remodel, especially adding non-combustible decking.
Decking is an excellent idea for many reasons, but it's also a fire hazard.

Wood decking is made of flammable material and can be charred in a wildfire or even catch fire just from the heat of the flames.

If you decide to add non-combustible materials such as concrete, stone, or metal to your decking project, ensure they're adequately installed so they won't catch fire either!
Grow your garden with fire safety in mind.
Plant fire-resistant plants.

Keep plants far away from each other so that any one plant doesn't get hit by all the heat at once. 

Use mulch and natural stone to keep your garden looking beautiful while preventing the spread of flames.
Learn how to create and maintain a wildfire-safe landscape.
Learn how to create and maintain a wildfire-safe landscape.

Use the right kind of vegetation in your yard, such as drought-resistant plants that don't catch fire easily, like cacti or succulents.

Keep trees trimmed away from power lines, houses, and other structures so they won't fall on them during an earthquake or strong wind storm.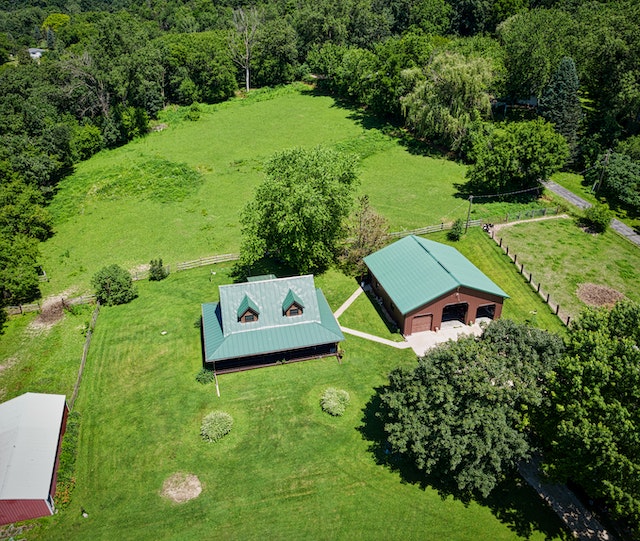 Take steps to make your home less vulnerable.
To help prevent damage to your home, consider taking the following steps:
Use fire-resistant materials in construction. This includes using non-flammable building materials and painting wood siding with a coating that prevents it from burning easily.

Make sure there's sufficient clearance between grasses and shrubs on your property, especially those near the house. If possible, remove flammable plants altogether.

Consider installing sprinklers or a fire hose system around your home if it's not already equipped with them (they're required in some areas).
At the end of the day…
We are experts at providing insurance to people who live by wildfire risks. It's common to see your premium  increase significantly, or to get a non renewal notice. If this happens, we'll quote it out to see if one of our carriers will cover it with a standard HO3 policy (sometimes, we have one or two who will do it regardless of the risk). If not, then we have the option to offer a CA fair plan policy and a separate DIC policy with another carrier – the two together offer all the regular coverages an HO3 policy would provide.
At Your Good Insurance Agency, we offer great CA Fair Plan and DIC policies. Most of the time, this combo policy will come out cheaper than what your increased premium would be. Given the number of people affected by wildfires every year, we all must have access to affordable coverage options to protect our homes and belongings against these devastating events. 
If you have any questions about this topic or want more information about how we can help, don't hesitate to get in touch with us today!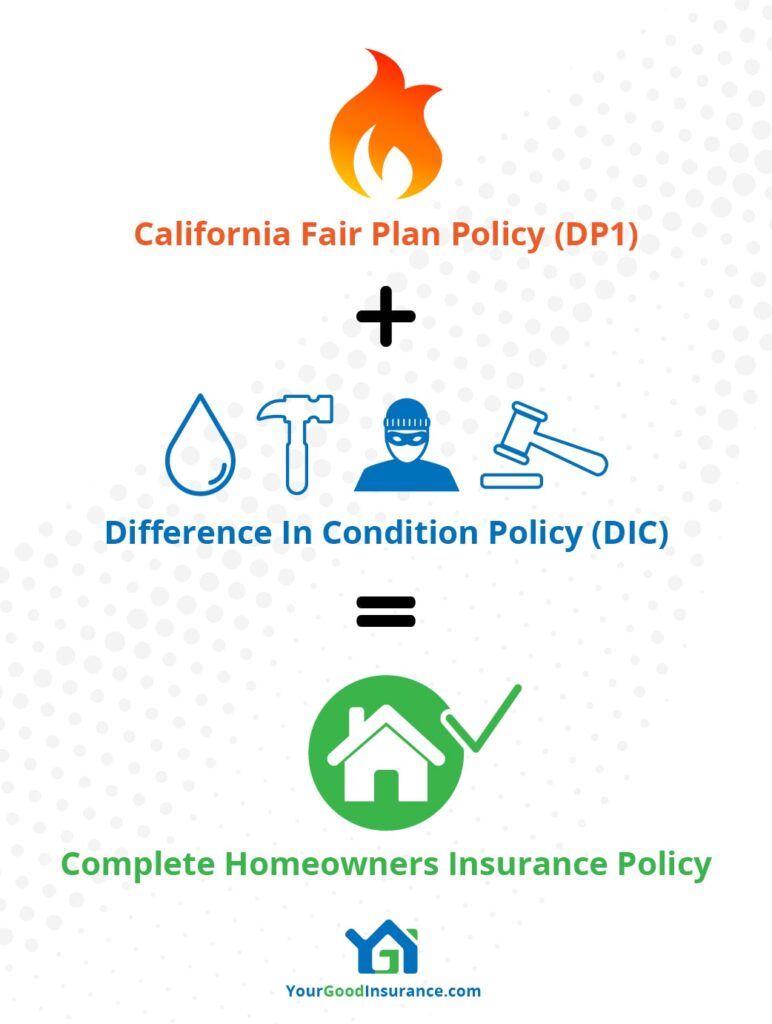 As a broker we will price this with up to 30 carriers to get you the absolute best price.
About Your Good Insurance Agency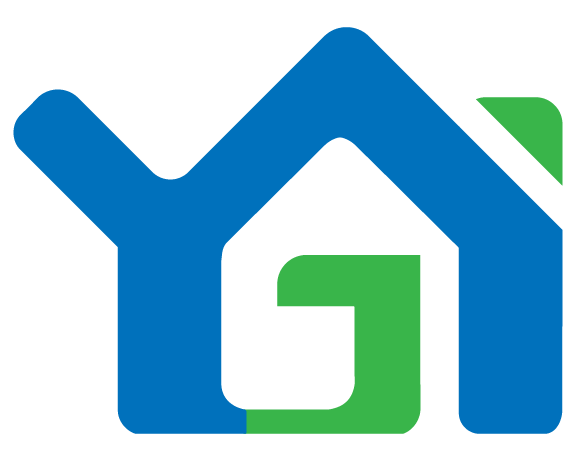 Based in San Diego, California, Your Good Insurance Agency was started in 2008 with the goal of helping people find high quality insurance at a reasonable price.
We work with over 30 carriers to help you get the best rate with good coverage options. We specializes in personal lines insurance with an emphasis on homes, dwellings (rental properties), and autos. We also help investors with property flip Insurance.
Most of our clientele resides in California however we are also licensed in Utah, Nevada, & Arizona.
Receive updates about new blog posts, industry news, discounts, & more.